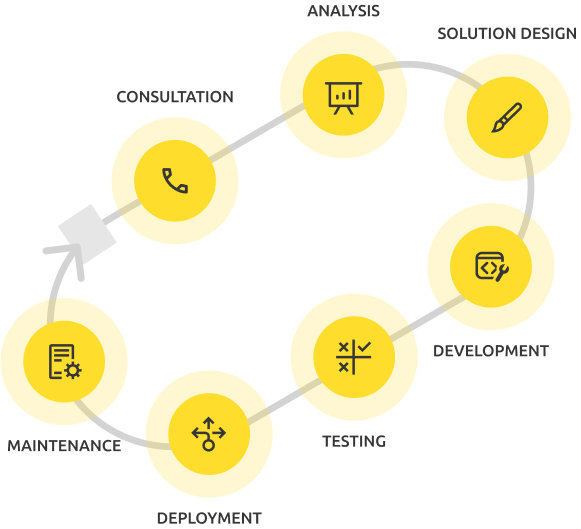 We assign a project manager to each project which speed up all the process and makes communication smoother.
Our approach to software development follows a structured and methodical process that incorporates industry best practices and development methodologies, enabling us to rapidly build cutting-edge technology solutions tailored to our clients' specific needs.
Consulting​
The first step is to understand the customer's requirements and goals. The company will conduct a consultation to gather information and provide recommendations based on their expertise.
Analysis​
Based on the consultation, the company will analyze the requirements and identify any potential challenges or limitations.
Solution design​
The company will design a solution that meets the customer's requirements and addresses any potential challenges or limitations.
Development​
The company will begin developing the software, using the agreed-upon solution design. Progress will be regularly updated and reviewed with the customer.
Testing​
Once the development is complete, the software will be tested to ensure it meets the customer's requirements and functions as intended.
Deployment​
The software will be deployed to the customer's environment and any necessary training will be provided.
Maintenance​
The company will provide ongoing maintenance and support to ensure the software continues to function as intended.
Contact us​